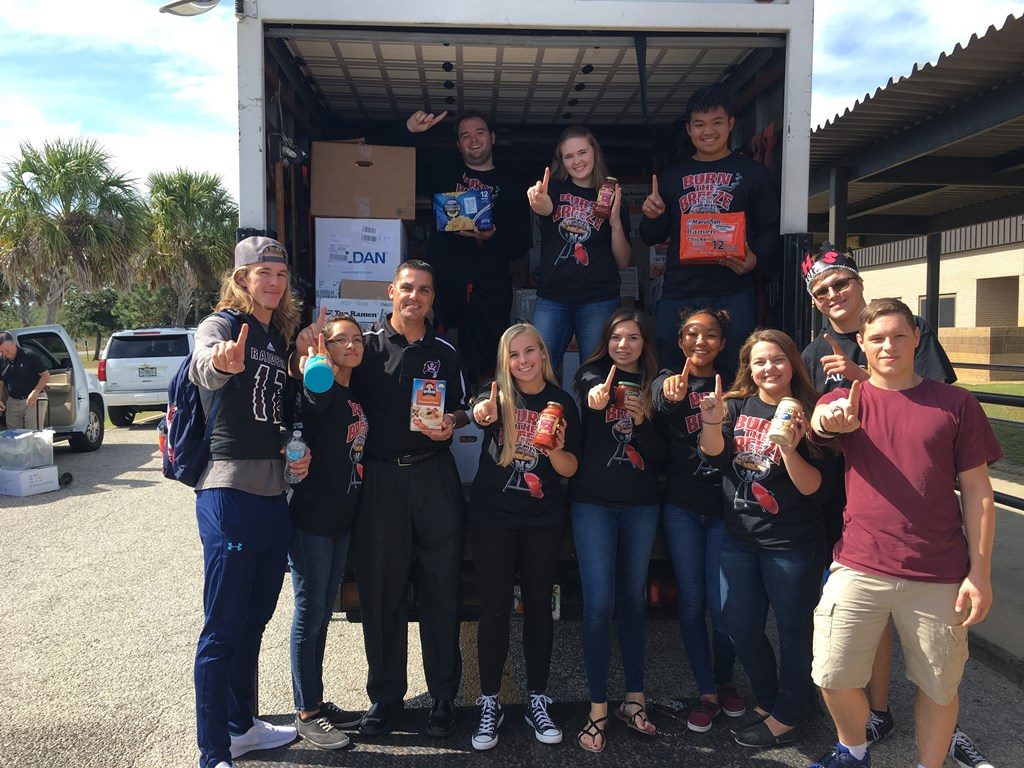 The week prior to the schools rival football game held on October 28, 2016, Sarah Smith, SGA Sponsor at GBHS and Jeffrey Knapp, SGA Sponsor at NHS helped their respective organizations, students and schools coordinate abundant food drives.  It has become a competitive food collection program with the victory going to local family recipients.  Caring and Sharing of Santa Rosa County's Thanksgiving distribution was held on November 20, and the bounty collected by the Raiders in cans, jars, boxes amounted to a total food count of 12,400 items versus GBHS at 1,171 food items.
The Beach Bowl Soup Cup food collection challenge has seen continued success in much part due to Brian Noack and Danny Brothers promoting within their respective schools.  Both principals recognize students from South Santa Rosa County benefit from the program and it is a much needed support system for the local community.
While the program is a spin-off of the Publix Beach Bowl award, it's competition has created a much needed awareness for feeding high school students and children living in South Santa Rosa County during the holiday breaks.
"Navarre once again took the challenge to task, we instituted the donate food campaign; running activities on NHS ITV, on the school reader board, our teachers reminded students, and our students reminded students," stated Noack. "We were going to keep our title for our food collection effort." The Raiders did take the Beach Bowl Soup Cup, a trophy which will deck the NHS trophy hall for the fifth year in a row.  However, they did not take the prized Publix Beach Bowl Cup as the football game win (31-28) went to the Dolphins.  Leaving us looking forward to next year and which school will prove to be lucky Annual Beach Bowl Soup Cup holder number seven.
Caring and Sharing serves those in need in South Santa Rosa County, but only during the holiday season, which is why the high school's unselfish food collection competition is so valuable to the organization and to the community.
In October of this year, 211 families qualified for Caring and Sharing's support, including 811 individuals; 367 adults, 444 children/teens and infants.  These numbers clearly point toward why Caring and Sharing's food donations are truly needed at such a very local level.  Qualifying students who participate in the 2016-2017 Free and Reduced School Meals miss out on school provided meals during the holiday breaks.
"Like football, fair and positive competition keeps individuals sharp and in the game," stated Ann Thompson, President Caring & Sharing. "This year congratulations go out to NHS Raiders with another year of swagger rights."
For more information about Caring & Sharing please visit their website: www.santarosacares.org and www.facebook.com/Caringandsharingsantarosacounty.  Financial contributions are tax deductible and can be made online with PayPal, or be mailed to: Caring and Sharing of South Santa Rosa County, Inc., P.O. Box 5521, Navarre, Florida 32566.